Info
1971 AMC Hornet SC/360
by the Auto Editors of Consumer Guide:
only 784 made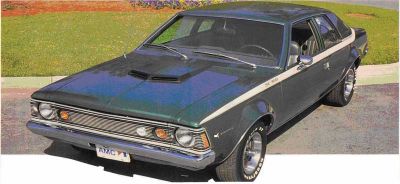 The 1971 AMC Hornet SC/360 was a muscle car that reflected changing times. Even a year earlier in 1970, when muscle cars were at their pinnacle, the signs were there for those who chose to look. Federal safety watchdogs, state and national emissions regulators, insurance companies -- even a changing social climate -- all took aim at the high-performance car.

For '71, the shots began to hit the target. Compression ratios retreated to accommodate regular-grade fuel, gross horsepower ratings began to fall to tamer-sounding net figures, and public relations-conscious automakers backpedaled. Into this upheaval stepped the 1971 AMC Hornet SC/360.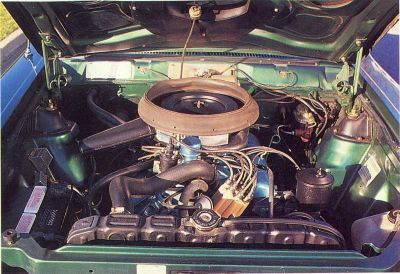 "Introducing a sensible alternative to the money-squeezing, insurance-strangling muscle cars of America," said its advertisement. "The Hornet SC/360." Hornet was the company's newest compact, and the two-door sedan was a reasonable basis for a low-profile muscle car. Original plans called for both an SC/360 and an SC/401, but when AMC discovered that a 401-cid Hornet probably wouldn't provide much of an insurance edge, the 360-cid V-8 alone was borrowed from the Javelin AMX.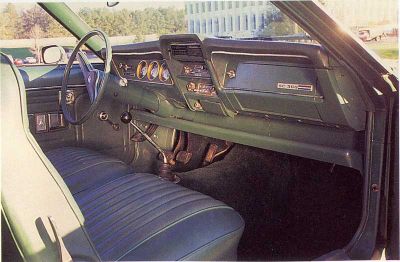 In standard form, it had a two-barrel carb and a modest 245 bhp. The $199 "Go" package included a four-barrel and a ram air setup for a more satisfying 285 bhp. These were gross ratings. Optional in place of the standard three-speed was a Hurst-shifted four-speed or an automatic. Polyglas D70Xl4s were standard, with upgrades running to the handling package and the Twin-Grip diff with 3.54:1 or 3.90:1 gears.

An SC/360 couldn't stay with the big-cube holdovers, but it did combine respectable quickness with a taut suspension, big tires, and modest size for a package praised by Motor Trend as "just a plain gas to drive...it handles tike a dream."
The SC/360 turned out to be a sleeper in more ways than one. Even with a base price of just $2,663 (about $40 below the '71 Duster 340), it made up only a fraction of the 75,000 Hornets built for '71. The SC/360 died after just one year as one of the muscle car era's better-kept secrets.
The 1971 AMC Hornet SC/360
Specifications
Wheelbase, inches: 108.0
Weight, lbs: 3,,057
Number built: 784
Base price: $2,663

Top Available Engine
Type: ohv V-8
Displacement, cid: 360
Fuel system: 1 x 4bbl.
Compression ratio: 8.5:1
Horsepower @ rpm: 285 @ 4800
Torque @ rpm: 390 @ 3200

Representative Performance
0-60 mph, sec: 6.7
1/4 mile, sec. @ mph: 14.9 @ 95