Info
Car of the Week: 1969 AMC SC/Rambler
By:
Brian Earnest
Date:
2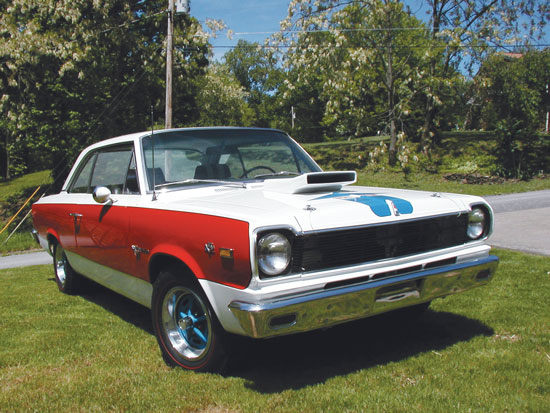 Larry O'Connor had been a muscle car guy since the 1960s when the cars were in their heyday. But somewhere along the line, the novelty of having a 1966 Chevelle — and several other muscle car fixtures of the period — lost its appeal.

"I've had all kinds of muscle cars — 'Cudas, GTOs, Chevelles. At one time I had a 1966 Chevelle Super Sport that was totally restored. It was really nice," O'Connor said.

"But everywhere I went and every car show I went to, everybody had '66 Chevelles. So I told my wife [Diane], 'I want to get a car nobody has.' I told her I wanted an SC/Rambler.' She said, 'Where are you going to get one?' I said, 'I don't know.' I wound up looking all over the East Coast, and I found two kinds of them: total basket cases, or ones that needed to be totally restored."

O'Connor, a retired resident of Fairmont, W.Va., admitted he was about to give up the search when he came across one of the rare AMCs almost in his own backyard. "The guy who was selling got like 200 e-mails on the car the first day it was for sale … and he couldn't answer them all," he said. "He figured out where I lived, and decided I was the closest one to the car and he contacted me first. It turns out the car was only about 20 miles from my house, and it was in storage.

"When we saw it, I didn't even dicker about the price. I just bought it right on the spot. It's taken a lot of work and taken me six years to get it done — and it's never really done, but it's a lot better than it was."

Finding one of the wild little AMC SC/Ramblers in any condition is no small feat. Only 1,512 of the memorable muscle machines were built, and there are probably only about 200 or so that survive today. Up until 1969, AMC had built a few cars that were sporty and performance-oriented — the Javelin and AMX being prime examples — but the SC/Rambler was the company's first serius attempt to tackle the muscle car market with a car that was obviously built to be a true burner.

And in the world of hairy muscle cars, the patriotic SC/Rambler was one of the most follically endowed cars around. "It's extremely, extremely fast," laughed O'Connor. "It's just a ball to drive.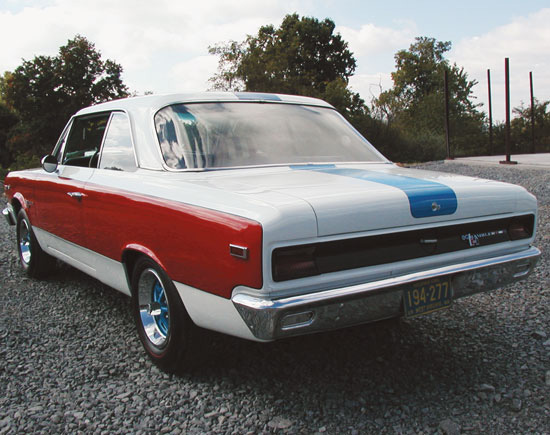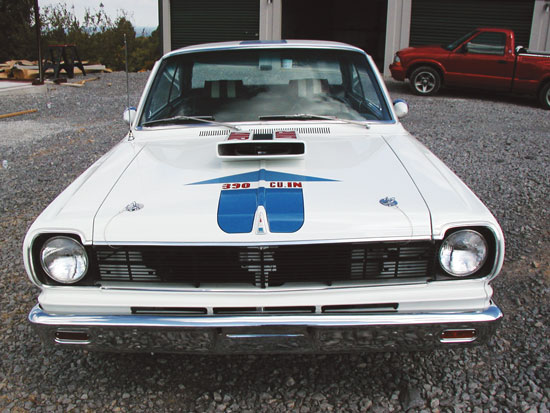 "They had the torque link suspension in the back, and with positraction rear end, these cars are really fast. I've had a lot of fun with it, and I've run up against other guys who had more high-horsepower cars and they couldn't hold a candle to this car. I had Chevelles and I have a friend with a 454 Chevelle and I just walked away from him, but then again my car weighs about half what his car weighs."

The SC/Rambler represented the swan song for the Rambler American compact car, but at least the nameplate went out with a bang. In 1969, American Motors hooked up with Hurst Performance Products to produce what the company called SC/Rambler — although everybody else seemed to prefer calling them "Scramblers."

The cars were based on the two-door Rogue hardtop coupe, and came in two of the most distinctive paint jobs ever seen on an American car. The first 500 cars built had red center body side panels and thick blue horizontal racing stripes on the hood, roof and deck. A blue arrow pointed towards the scoop, which had large letters spelling the word "AIR" and calling out the engine size. This was the "A" type graphic treatment.

When those cars sold quickly, another batch was made with new "B" type trim. These had a mostly white exterior with narrow red and blue stripes. Then, a third batch of cars was made, reverting to the type "A" trim. Exact production numbers are a little sketchy, but it's believed about 1,200 of the SC/Ramblers went out the door with the "A" trim.

Though their looks were hard to forget, the cars were also noteworthy for the punch they packed. Below the hood was a 390-cid/315-hp V-8 linked to a Borg Warner four-speed manual gearbox with a Hurst shifter. A 3.54:1 rear axle with Twin-Grip differential was included, too. With a curb weight of about 3,000 lbs., the hot little car had a power-to-weight ratio of 10.03 lbs. per horsepower. This made it eligible for drag racing in the National Hot Rod Association's F-stock class.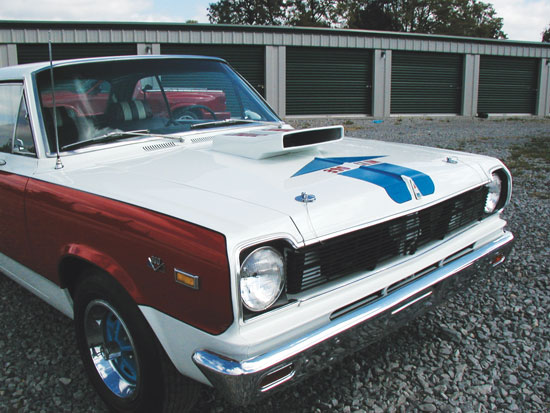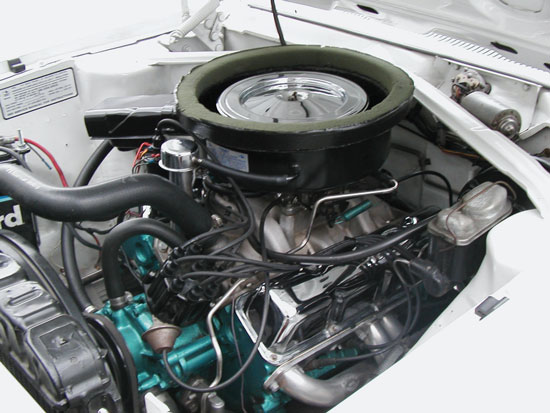 The cars rode on a short 106-inch wheelbase and carried an MSRP of about $3,000, which meant you got a lot of "go" for your dough.

AMC factory officials estimated low 14-second quarter-miles at 98 mph for the new cars. Road Test magazine clocked 14.4 at 100.44 mph and managed to hit 109 mph without topping out. Modified SC/Ramblers have run the quarter-mile in the 9-second bracket.

A long list of standard goodies included a big hood scoop for Ram-Air induction, fat dual exhaust pipes, a column-mounted Sun tachometer and Bendix front disc brakes. Blue-finished five-spoke mag-style wheels, 14 x 6-inch rims, wheel trim rings and fat red-striped Goodyear tires were also standard. The interior was done in plain-looking gray vinyl with red-white-and-blue headrests.

By the time O'Connor found his SC/Rambler in 1999, it had already had a pretty interesting life, even though it had only 32,000 miles on its odometer. The car had been bought new by a young woman in Buckhannon, W.Va., on June 30, 1969. She kept the car until 1982, when she sold it to a man who soon turned the AMC into a drag car. He swapped out the factory 390 engine for a hopped-up 401 and then spent his weekends on the drag strip for the next three years.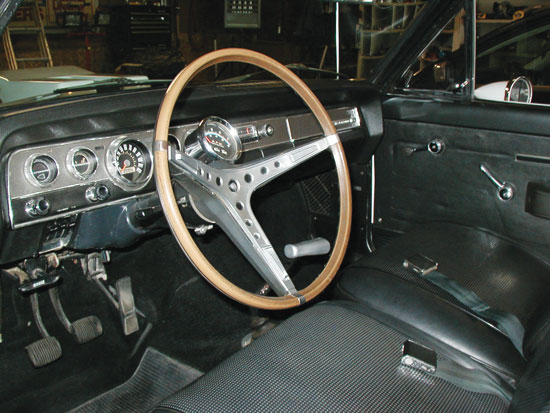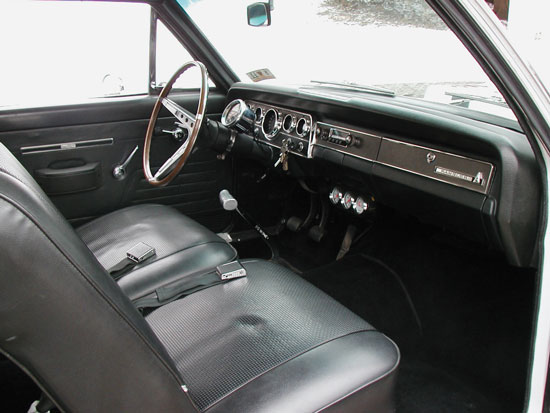 From there, the car went into storage for 12 years, according to O'Connor, before the second owner finally decided to part with the car. O'Connor wound up buying the SC/Rambler on Jan. 30, 1999 — exactly 30 years after it was sold new.

When O'Connor got the car, it still had the 401 engine, but he also got the original 390 mill in the deal. He knew an engine swap would be in the car's future, and it would be accompanied by a lot of other work to get the car back to its original fighting trim. The body was in decent shape, but O'Connor wound up replacing two rusty fenders with fenders salvaged from base Ramblers he located in junkyards.

"I figured since the car sat in storage for 12 years that the engine would be useless," O'Connor said. "I was more worried about the body. It had been repainted once with real thick enamel paint and it was cracked and worn out … To make a long story short, the engine and transmission were actually the best part of the car. It took a long time to do the rest of the car .

"I couldn't find anybody in this area who even wanted to touch it. They just didn't want to fool with it. They said it would take a year just to get it painted. So, I found a guy that had done some work for me in the past and showed him some pictures of the car and asked if he would consider painting it. He said, 'Sure, I'll do it!' He worked on it for three months and got every panel perfectly straight, and now it's got four coats of clear and four coats of base coat on it. It came out really great."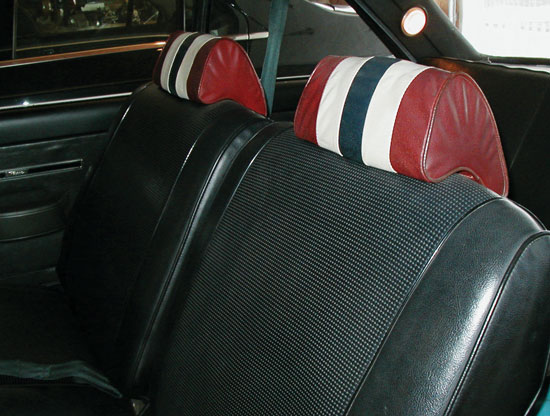 O'Connor said his car originally came with the less-popular "B" paint scheme — with the narrow red stripe at the beltline with the blue bottom. After stripping the body down to bare metal, he decided to repaint it with the "A" scheme, which features the wide red stripe down the side. "I did that for car shows," he said. "It's a little flashier."

The 401 engine is still in the car, but O'Connor is finishing a rebuild on the original 390 and expects to have it reinstalled in the next few months. The car's interior is all original, but he said that will get some help soon, too. "Legendary Interiors up in New York is going to come out with a new interior for the SC/Rambler … and I'm going to have them re-do my two seats and my headrest and stuff, so I'll have a complete new interior in this car, too," he said. "The interior is original, but it's 40-some years old, and the backseat where the sun comes down through the back window, the material was pulling part and the vinyl was drying out after so many years … I had it stitched up, but it's starting to pull apart because the vinyl is so dried out."

O'Connor said he is having a change of heart on the paint scheme, too. He admits he still prefers the bolder "A" treatment, but is leaning toward returning the car to its original — and rarer — "B" look. "Once I get this new interior in it, I'm gonna change it back to "B" version. Before summer gets here, it will be a numbers-matching "B" version car. The blue stripe on the car is just a decal. It just peels right off. To make it into a "B" version, all I have to have to do is take the bright red down the side and have it repainted back to white and put the red and blue stripe along the bottom.

"The paperwork I have says that it was a "B" version. I've got paperwork on this car clear back to the day it was sold new. I was even able to find the salesman who sold the car to the girl in 1969. He said, 'Yeah, I remember selling that car.' They had taken that car — it was a really small dealership — and they had put in all kinds of extra stuff: an optional camshaft and other stuff, and it was a real good-running car. And when this girl came in, the salesman tried to talk her out of it. He was afraid she was going to hurt herself in it."

O'Connor said he typically puts 400 to 500 miles a year on his head-turning AMC, mostly to and from local car show and on short trips for ice cream with Diane. "She goes with me to car shows all the time. She loves it, too," he said. "She knows as much about this car and other cars as I do." At the moment, the AMC's odometer shows 37,666 miles.

Some AMC detectives have determined that there are only about 46 of the "B" versions remaining — a fact that probably wouldn't hurt O'Connor's cause if he were to sell the car. He says he had the car for sale at one point in the past, but never wound up making a deal. "I really like the car, and I've had a lot of fun with it," he said. "And it's one of only 46, and they aren't making any more of them."

Clearly, the car has served its purpose as a "something different" muscle machine that turns into a conversation piece wherever it goes. "Most people have no clue what the car is," O'Connor said. "I've been to shows with 600 or 700 cars there, and I'd be the only AMC there.

"I had a woman come up to me one time wondering why I painted my car that way. I told her I didn't do it, the factory did — and she argued with me! She wouldn't believe me that a car could come from the factory like this."