West Coast AMC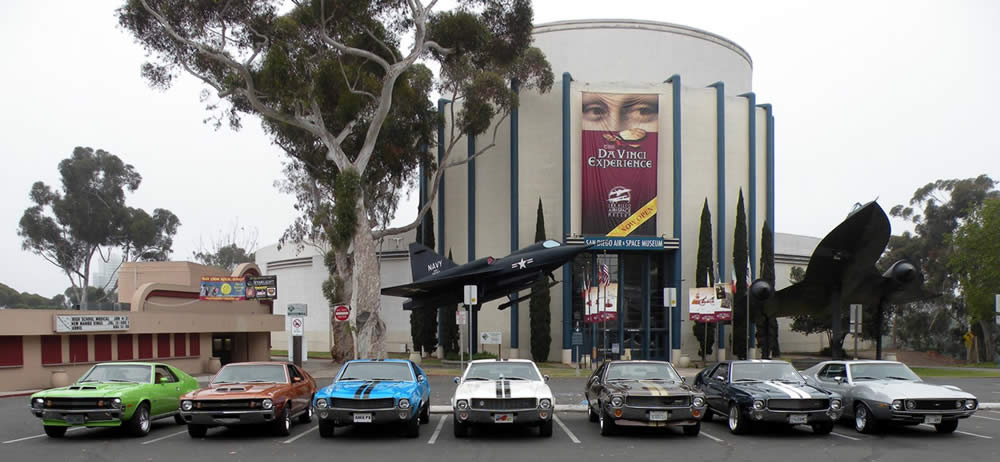 The First Seven
Our Story
I met Steve in 2008, at Cruisin' Grand, A Beautiful White 68 with black stripes & 390. Nearly every nut & bolt is AMC. He frequented Grand & said he kept looking for me, I guess it was a few weeks before we finally met. Steve was/is a member of SoCalAMX & hooked me up with the group, mostly L.A. County, We are now their Southern Group.
I also met Richard there, although weeks later. He has an Aqua'ish Blue 68, Sweet, newer seats, gear vender, 390, white stripes, cushy, etc. It's a little fuzzy now, but I met up with Richard in San Diego on a Sunday sometime after that, I can't remember what we did...But it was a drizzly day & he was going to follow me up to Dalton's for the Car Show, It started raining & Richard turned back home (no wipers).
I was just going to go home too, but it wasn't raining by the time I got to Escondido, so I thought I'd check out Dalton's. I pulled in & these two guys a few rows over kept waving at me & wanted me to come over....who the hell were they ? I come down they're row & one of the guys, Stu, is standing next to his Metallic Brown 69 AMX, Nice ! He calls it Hash Mark, Gold stripes, 401 built by Penski, Beautiful Rumble ! The guy with him is Tim, He has a Black 71 Vett, but we let him Cruiz' with us anyhow...it's the mascot thing. Oh, & He's a good guy too !
Sometime later I went to a Car Show at Qualcom Stadium, they have a show 2 or 3 time a year there, small, open to all years. As I'm following the fence line into the show area, I see another 70 ! Bittersweet Orange, Clean, 360, aftermarket A/C under the dash on the pass side, looks Cool ! I parked next to it, walked around the show & swap meet. I kept checking back, I wanted to meet the owner. I finally met Chuck, He didn't stay long, but long enough to get him to join us !
Then in 09, our Leader Mark, along with Hobie, were coming down to the Temecula Rod Run. I was meeting them there, they were meeting up with another AMX in Menifee, John, Sweet Bright Geo Blue, Really stands out, like Mine ! Of course it's another 69, 390, Really Clean ! So we met !
Now for the Six of us to Meet as a group ! They used to have a Coffee & Donuts at the Automobile Museum at Balboa Park & We were meeting there & going to the Sequan Car Show from there. I had talked to a Photographer that wanted pix for his web site. So pulling in we spotted a Silver 71 AMX Cruisin down an aisle, we waved him over to follow us. Allen has a Completely rebuilt Silver 71, 360, did it himself. As I write this he is in the process of a ground up restoration of a 68 & we have talked him into going RWB !
Anyhow we found the perfect spot for pix ! The one at the top of this page ! We are not only for AMX's, but for ALL AMC's, it just so happens that the "First Seven", were AMX's. We have more Members now, I wanted to tell you how we came about. We have so much info in our members, you can get damn near any question answered through them, Just Ask !
"Cruisin Grand" is a Friday night Cruise in Escondido from April thru September
"Daltons Car Show" is the first Sunday of every month, in San Marcos
The Club Site: http://socalamx.net/
The Pix Guy is: http://justacarguy.blogspot.com/
Show site is : http://socalcarculture.com/events.html
Looking to buy ? : http://www2.jaxed.com/cgi-bin/mash.cgi